Probability (top row) and magnitude (bottom row) of response to animals in different parts of the brain. Image: Mormann et al./Nature Neuroscience
 Hormones
  We animal lovers have long known that, no matter what life may bring — sickness, sadness, or radiant health — pets make us feel better. Numerous studies have documented astonishingly wide-ranging effects. Cat owners enjoy a 30 percent reduction in heart attack risk. Watching swimming fish lowers blood pressure. Stroking a dog boosts the immune system. Now researchers can explain the source of our companion animals' healing powers: Our pets profoundly change the biochemistry of our brains.
  Oxytocin levels rise in a mother's brain as she goes into labor, and produces the contractions that deliver the baby. Once her infant is born, just the sight, smell, or thought of the baby is enough to trigger milk letdown. Humans have known for millennia that this affects animal mothers, too: Ancient Egyptian tomb art shows a kneeling man milking a cow with her calf tethered to her front leg.
  Oxytocin's powers are not, as once thought, limited to mothering or triggered only by labor. Nor is it confined to females, to mammals, or even to vertebrates.
  Oxytocin causes a cascade of physiological changes. It can slow heart rate and breathing, quiet blood pressure and inhibit the production of stress hormones, creating a profound sense of calm, comfort, and focus. And these conditions are critical to forming close social relationships — whether with an infant, a mate, or unrelated individuals — including, importantly, individuals belonging to different species.
  Oxytocin is not the only neurotransmitter companion animals call forth from our brains. South African researchers showed that when men and women stroked and spoke with their dogs, as well as doubling the people's blood levels of oxytocin, the interaction boosted levels of beta endorphins — natural painkillers associated with "runners high" — and dopamine, known widely as the "reward" hormone. These neurochemicals, too, are essential to our sense of well-being. A later and larger study by University of Missouri scientists also documented that petting dogs caused a spike in people's serotonin, the neurotransmitter that most antidepressants attempt to elevate.
  All animals appear to have cells directly under the skin that activate oxytocin in the brain. So gentle touch — from grooming your horse's coat to making love with your spouse — is a powerful trigger. But so is simply thinking about someone you love, whether it's a person or a pet. And in fact, a small study published this fall at Massachusetts General Hospital found that MRI scans of women's brains lit up in the same areas when shown pictures of their pets as when shown pictures of their children.
  Here's the best part: It's mutual. We effect the same physiological changes in our pets as they do in us.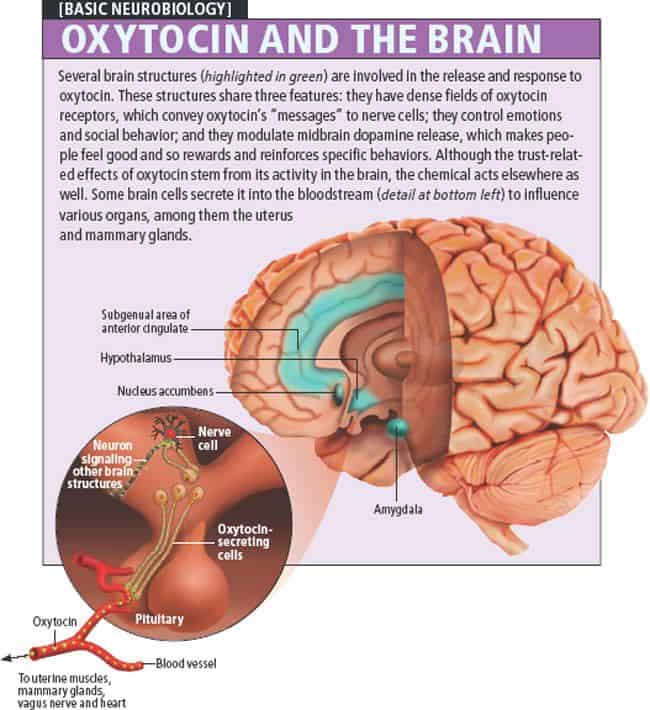 Research


 

The cells were found in the amygdala, an almond-shaped part of the brain involved in emotions, including fear. The cells responded to any kind of animal, including spiders, dogs and rodents, says Christof Koch, a researcher at Caltech and the lead author of the study, published in Nature Neuroscience.



  The researchers looked to see how cells in several parts of the brain responded to a variety of images. It was only in the amygdala that they found cells firing specifically in response to animals, Koch says.
  That makes sense, Koch says because the amygdala "seems to be specialized in alerting us to things that are emotionally important to us — either positive or because they're scary."
  It's easy to think of reasons that the human brain would evolve to focus more attention on animals than bridges or buildings, says Lynne Isbell from the anthropology department at the University of California, Davis. 
"Long before we had those things, we had animals," she says. 
*Excerpts from:
https://www.google.com/amp/s/www.bostonglobe.com/lifestyle/2015/01/12/your-brain-pets/geoJHAfFHxrwNS4OgWb7sO/amp.html
http://www.npr.org/2011/09/01/140116969/human-brain-responds-to-animals-cute-or-creepy