A Proper Fitting Litter Box Is Important
From Piggy Poo & Crew:
   Animals have a natural instinct to back themselves into a corner to eliminate. Piggy Poo & Crew's custom litter box is ergonomically designed to allow this type of elimination. One of the highest back and side walls of any litter box on the market today. This feature helps to avoid messy over-the-edge accidents. This box also has a low front for easy entry and exit.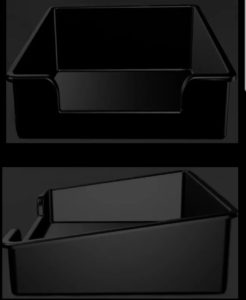 Most litter boxes are only suitable for small animals. Piggy Poo & Crew's large litter box solves that problem. Animals ranging up to 150 pounds can use our X – Large size box. This box is perfect for animal lovers and breeders with more than one animal. Animals are less likely to have accidents with a large box. This helps keep their environment clean and less spread of bacteria. Our box works great for Miniature Pigs, Potbelly Pigs, dogs, cats, rabbits, hedgehogs, ferrets, goats, guinea pigs, fox, skunk, you name it!!